You are a Pc or a laptop user, which runs any version of windows and a dialogue box has just appeared telling you that your Windows PC's files are now encrypted and you have 48 hours to pay $500 in Bitcoins to get them back. Fail to meet that deadline and the price will rise slowly . This is "WannaCry" to make you cry .
What is Ransomware ?
Ransomware is malware for data kidnapping, an exploit in which the attacker encrypts the victim's data and demands payment for the decryption key. Ransomware spreads through e-mail attachments, infected programs and compromised websites. A ransomware malware program may also be called a cryptovirus, cryptotrojan or cryptoworm.
What to do if you are already a victim of Ransomware !
The only advice that you might need is: DON'T PAY them for your own files! First of all, these guys stole from you, and nothing can prevent them to do it again. Of course, if $500 isn't a big deal for you – you can pay and see what happens. Anyway, these money will help the hackers to develop the next version of Cerber, to infect more computers and gain more money. The decent line of behavior in this case is to remove the virus from your PC, save the text of ransom note and the encrypted files, and ask for help of the reputable malware fighters.
Tweet and tell us more on this Ransomware
Click To Tweet
Here are the 5 Best Softwares to cure WannaCry Ransomware :
These are the few best tools to help you fight ransomware .
1.Hitmanpro.Alert :
HitmanPro.Alert is an exploit mitigation tool which steps in when attacks target vulnerabilities in programs or the Windows operating system that have not been patched yet.
The program supports features that EMET or Malwarebytes Anti-Exploit don't support currently such as Process Protection, Man in the middle browser detection, or anti-ransomware functionality.
The program interface lists four main areas of interest:
Scan Computer runs a malware scan using the same antivirus engines that HitmanPro ships with.
Safe Browsing protects against man in the middle attacks while browsing.
Exploit Mitigation identifies and mitigates attacks that use exploits.
Risk Reduction includes several additional protective features.
A click on a protected application displays options to enable or disable mitigations individually. The following mitigations are available currently:

Application Lockdown – Stops attacks that bypass mitigations.
Control-Flow Integrity – Stops ROP attacks.
IAT Filtering – Prevents abuse of Import Address Table.
Stack Pivot – Stops abuse of the stack pointer.
Stack Exec – Stops attacker's code on the stack.
SEHOP – Stops abuse of the exception handler.
Enforce DEP – Prevents abuse of buffer overflows.
Mandatory ASLR – Prevents predictable code locations.
Bottom up ASLR – Improves code location randomization.
Null Page – Stops exploits that jump via page 0.
Dynamic Heap Spray – Stops exploits that start via the heap.
2. Zemana Anti Malware :
Zemana AntiMalware is a cloud based malware scanner that provides excellent malware detection, quick scans, and easy malware removal. As it is cloud based, it always has the most current virus definitions and new definitions can be quickly pushed out by the developers when new malware is discovered.
Zemana is also a very lightweight program that uses very little resources. This allows it to quietly protect you in the background, while not affecting the performance of your computer.
Some of the benefits of using Zemana AntiMalware include:
Removes unwanted apps, annoying toolbars or browser add-ons.
Finds and removes even deeply embedded advanced threats like rootkits and bootkits.
Scans thousands of files per second.
Compatible with other antivirus solutions.
In-house algorithms for zero false positives.
Doesn't slow down your PC.
Easy-to-use.
3. Bitdefender AntiRansomware :
The new Bitdefender Anti-Ransomware vaccine is built on the same principle as a previous tool that the company designed to prevent CryptoWall infections. CryptoWall later changed the way in which it operates, rendering that tool ineffective, but the same defense concept still works for other ransomware families. Now they have upgraded their software to a whole new advanced level to cure Ransomware .
4. CryptoMonitor :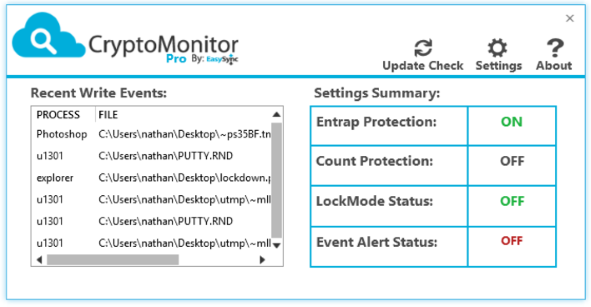 CryptoMonitor is a new Anti-Ransomware solution that was developed to protect your computer or server against the wave of encrypting Ransomware that has been in the wild the last few years. These infections, like CryptoWall, CryptoLocker, CTB Locker, CryptorBit, KeyHolder, TELSA, Operation Global, TorrentLocker, CryptoDefense, ZeroLocker (And Many Many More.), will use numerous exploits or other methods to get onto the victims machine and once launched encrypts/locks all personal files. When completed the Ransomware will then hold true to its name, and demand a ransom in order to get your files back, or forever face life without them.
5. Kill Switch :
A kill switch is a mechanism used to shut down or disable machinery or a device or program. The purpose of a kill switch is usually either to prevent theft of a machine or data or as a means of shutting down machinery in an emergency. In manufacturing, for example, a kill switch (also called a big red button) might be used to shut down machinery if a worker is in danger. In mobile computing, a kill switch can disable a device that has been reported lost or stolen. By activating a kill switch, the network administrator can protect the data on the device from being stolen or altered. In a car or boat, a kill switch can prevent the vehicle from starting unless an associated security mechanism is activated.
So here i tried to cover all the parts of Wannacry Ransomware and 5 best tools to cure it , Let us know in the comment section what do you guys think of it .